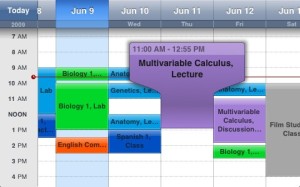 IStudez Pro has been specifically developed for those studying in the usual school/college/university setting with schedule planning, assignments,classroom changes, tracking marks etc. It can be used on the iPad, iPhone and Mac computer (£1.99) but there is an iStudiez Lite version for free, although this does not offer all the options mentioned.  MA felt that the Pro version was "good, helped with personal organisation and managing deadlines. Useful to set reminders for assignments up to seven days prior due date. Colour coding feature ability useful allowing user to 'check at a glance'.
I do not use this app as often now as I no longer find myself needing to check my schedule daily; however it is an extremely useful app to help with organisation."
MA University of Birmingham
YouTube video App Review: iStudiez Pro for Students!