LexDis 2.0 is supported by researchers in the ECS Accessibility Team (University of Southampton) and professionals across the higher education sector to share strategies and resources to improve the use of accessible technology for studying. In 2019 we added a new section covering Digital Accessibility to assist universities and colleges with meeting digital accessibility regulations and standards.
The idea is for us to collect strategies, case studies, guides and other useful resources with the help of participating students and staff. We also include comments from any of you who are willing to contribute to this collaborative project.
Please take part and make this a useful resource!
History of LexDis
The original LexDis site was developed by students at the University of Southampton- Russell Newman (who has completed his PhD) in the WAIS research group and James Llewhellin who sadly died in 2009. Jiří Kajaba and Reena Pau were also there to support us when we needed more ideas.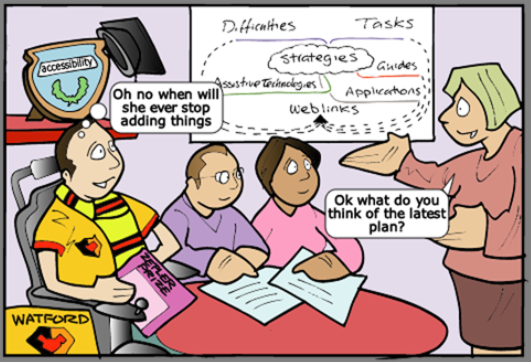 The James Llewhellin Accessibility Prize was established in memory of James and is awarded each year to a student who makes a considerable contribution to work involving accessibility and ease of use in the field of technology.
Below you will find a collection of reports related to the research carried out during the LExDis project.
The LexDis Methodology Report for JISC (July 2008 – MS Word 2003 download 2.2MB) has an indepth analysis of our use of participartory methods along with discussions related to the outcomes of the research undertaken into the use of technologies with e-learning, with thanks to the support of all the students who took part.
The LexDis Project Final Report (December 2008 – MS Word 2003 download 1.52MB) provides an overview of the entire project with quotes and case studies from those students who participated, as well as the results of the research. The Executive Sumnary can be downloaded separately (December 2008 – MS Word 2003 download 60KB) but also forms part of the final report. The complete report is available in Daisy book format with navigation and audio (large zipped folder 137MB). PDF versions of The LexDis Project Final Report(1.8MB) and The Executive Sumnary (260KB) can also be downloaded.
The LexDis Completion Report (February 2009 – MS Word 2003 download 242KB) has been submitted to JISC but this project will continue to remain up to date with additional information related to student strategies and guides being added to the database over time. A PDF version of the LexDis Completion Report(275KB) can be downloaded and a LexDis Completion Report Daisy book format is available with navigation and audio (zipped folder 10.8MB).