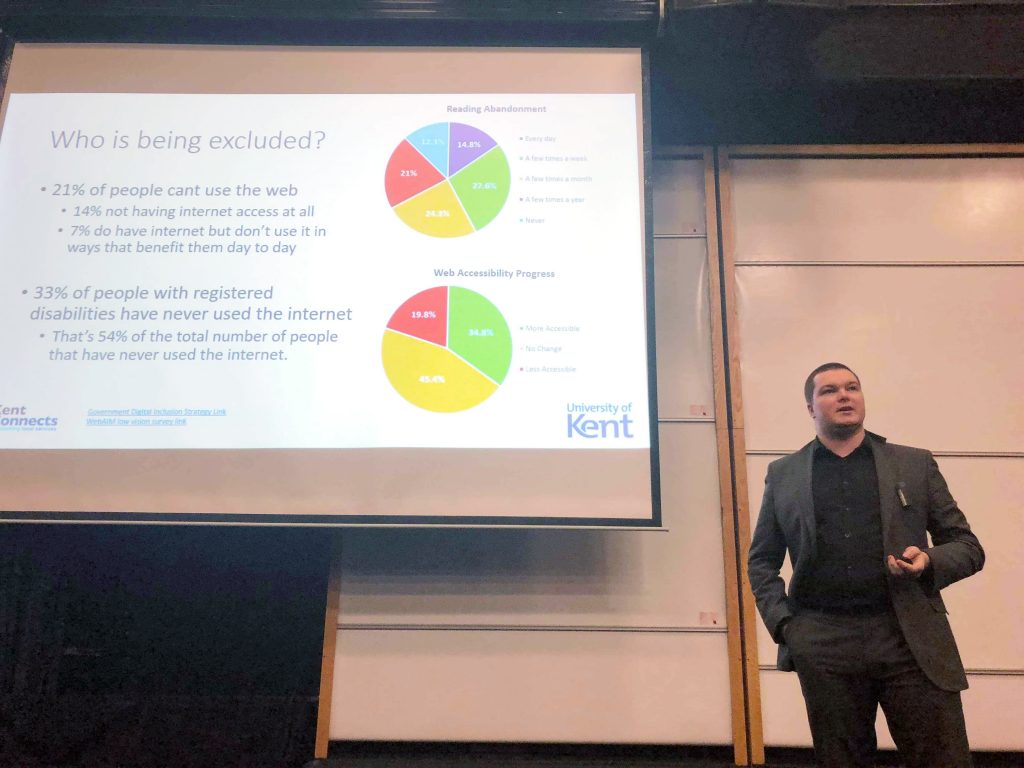 One of the long term strategies we have employed to benefit our digital accessibility work is investment in skills development in future local talent.
With the regulations now being a continuous obligation for organisations, there is a requirement for staff to be skilled in the delivery of accessible content. Through natural staff turnover and progression, we continuously recruit new members of staff. Many of these new staff will have had a university education and many will be local citizens of the area. As such it is in our benefit to ensure that those future staff have skills that we require as organisations.
The way in which we have invested in future local talent is to work with the School of Computing at the University of Kent, to embed accessibility learning into the curriculum in a number of areas across the breadth of the courses.
We do this by guest lecturing as part of modules and including accessibility into assessments. One of our Accessibility Lecture presentations shows the approach that we take, focusing on accessibility principles and understanding the benefit for users and for the students as developers. in later modules we focus on more technical aspects of accessibility.
The students we are reaching will one day become the next web developers, project managers, digital content writes etc. of our organisation.
This is a circular benefit for all as we invest in future skills that may benefit our organisations, and the University know they are teaching skills that are desired in the working world which helps improve their students employability.
There are other areas within the university that would help expand the sources of accessibility skills growth and we want to look at other departments that would be suitable to also include accessibility teaching. There is also much room for expansion if we were to also start engaging with colleges, or local schools to help introduce accessibility thinking at earlier ages.
We strongly recommend that you as local employers think about the other organisations in your area that you could begin to work with to provide similar benefits.